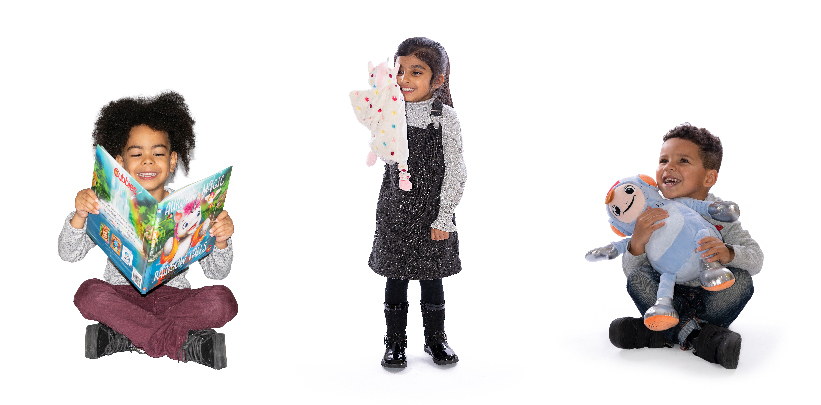 2018 Review
Hi folks
Sorry I haven't written in a while. In fact my last blog was the yearly review and I usually try to write more about things of interest. Truth is, I haven't managed to find the time.
As you may know, we've had some staffing issues in the last three months and things have been difficult and stressful. Probably the hardest I've had it since I started the early years back in 2011.
Adversity comes with the territory when you run your own business and when you get through them you are always more knowledgeable and better prepared for the next round of difficulties.
I hope 2018 has been a good year for you, for but for me, I'm delighted to see the back of it.
I'm also, as always, excited about the upcoming. We have five new Cubbies coming, as well as the new picture books and puppets I told you about in June.
They should have arrived last month but there has been some strict environmental regulations enforced that has set our production cycle back six weeks.
It used to take four months to replenish goods, now it takes six. I'd be interested to know if any of your other suppliers have also experienced these problems and missed due dates.
Sneak peak of what's coming in January and February.


A First for Everything
Over the course of the last eighteen months I have seen a drop off in customer orders and some accounts have struggled to find the right avenue to sell the Cubbies. Some have complained they cannot embroider them, or have damaged so many it's not worth doing again.
I needed to put myself in my customers shoes and see how I could help, not just on the embroidery side, but more importantly, on the sales and marketing. So, on November 23rd, we purchased our first embroidery machine.
We should have done this sooner as it helps make an easier to embroider product, and yes, those harlequins are too tight (which is why we're going back to the 14" in the Spring and staying there).
Despite selling to over 2500 embroiderers over the past six years, I've never used or understood embroidery machines. Looking at that now, that was a mistake. We could have fixed a lot of sizing issues had I clamped and embroidered each one prior to production.
I know that now so from now on all products that go to production will have been embroidered with ease by a novice like me. However, there was another reason for buying one.
The Plan: A Retail Kiosk
I have absolute faith in our personalised Cubbies – kids and parents love em'. They particularly like the birth block design and our reviews from our website are 100% recommended, and we rarely get complaints on quality.
Having a product that people love that doesn't have much, if any, direction competition, is gold! That's the hard part out of the way. But I knew it wasn't going to be plain sailing in taking Cubbies to the next level.
The plan to set up a kiosk in a shopping centre and see how many we could sell direct to the public. The idea came to me when I saw a video someone sent me in October. I was looking for a retail solution for embroidery software and I came across something most of you will be familiar with – auto digitisation. Scanning in a picture and turning it to a design.
The set up I was looking at was from a shopping mall in Japan – they had loads of kids drawing onto paper and they would scan the image and place them on to a small satchel bag; kinda' boring, but the idea was great.
Not only would we be able to sell the concept of sparking children's imagination through turning their handwriting/drawing into art, but also, these simple designs took less than ten minutes to embroider.
Having a Cubby on the machine for thirty minutes was not sustainable, but the simple drawings should be. So, by the beginning of November, I began to go to work to see if I could get something like this operational for end of November…
Before you ask with a skeptical brow, we're not trying to steal your customers and give up the trade business – no, we're trying to set up a great formula of retail success that was easily repeatable by you, our embroidery customers, that was similar to a franchise model, where we'll do the testing and fix all the holes that will inevitably come once we start to put this thing in action.
If the plan is successful you'll have a much better avenue for sales than what you are currently relying on – it is a win/win. There was only one problem; I hadn't a clue what I was doing.
What we went to work on was a streamlined process that enables a customer to select a Cubby, choose their design, pay and wait fifteen to twenty minutes for the digitisation and embroidery to take place.
The problem is timing; we need to create a streamlined process, just like the McDonald brothers did in San Bernardino in the 1950's, and it has to be efficient. If it takes twenty-five minutes or more to go through digitising and embroidery, it isn't going to be cost-effective.
As I mentioned, when it comes to embroidery or setting up a retail pop up 'shop', I didn't know what I was doing. I felt like I was jumping off a cliff and assembling the parachute on the way down (scary, but also a little exciting, if you could pull it off).
One of our long time customers who lived nearby came and gave us a few hours tutorial and there was a lot to take in. I knew I wasn't going to be an expert any time soon, and I had to learn on the job a lot, which meant unhappy customers if I made mistakes.
The other major problem was staff – I was advertising online trying to find temp staff to man a kiosk, and they won't have a clue about how to use an embroidery machine either, not to mention the software or hooping a Cubby (this was the only part I was actually okay on).

How was I going to make this work?
The only option was to take out everything that was complex or time consuming and have a no frills, basic guild to personalised gifts. If I could offer customers a fixed template (they couldn't even change the colour or font) with the embroidery machine threads already assigned to the template designs, that would make things much easier.
I purchased two sets of bookcases, AKA Cubby holes (great coincidence) from Ikea and put them back to back. This way I could showcase twelve Cubbies and have storage behind them (four Cubbies deep, plus a storage box at the bottom shelves).
This allowed me to have 72 Cubbies in stock, being showcased on either side of the bookcase, and it was only 150cm high by 150cm wide.
This is important as it would fit in any Kiosk operations despite their stingy operating space. I also bought a matching table that fitted onto on side of the bookcase and the embroidery machine would be positioned to the side of it.
I had a roller banner on the other side of the units and I had two small children's tables at the front of the kiosk, which would work great if I could get the auto digitising software to work well – kids could draw on a piece of Cubbies themed artwork and once they are finished, hand it in and watch the 'magic' happen.

Kids will LOVE this!
The plan is to have it all nice and compact, and, hopefully, a line of customers wanting a personalised Cubby!
This was the plan. As I'm writing this it is currently ten-thirty in the evening on Tuesday the 27th of November, and I've been paying for my kiosk space of £90 a day since Saturday 24th because I couldn't get everything ready in time. I, and one new member of staff, have had all of four hours training and I'm now planning on getting everything set up by Thursday evening (I can only set it up outside of trading hours) and be ready to start selling Friday morning, six days behind schedule.

How did we do?
The key to these experiments is reacting fast to general feedback & consensus. We had four design options; I belong To – Name & Message – Birth Block – Digitisation of a Picture.
We found out pretty quick this was too complicated. Also price – we were charging a premium; £30 & £35 for the blocks. We changed this on the Saturday to £25 for the I Belong To and orders came in much faster.
At one point I had five Cubbies in a line waiting to be done. Fortunately, they were all IBT. Had there had been birth blocks and drawings to scan in, it would have been chaos.
When you're busy, that's good, but the pressure is intense when the machine stops and it tells you to check the upper and low bobbin. At one point, I couldn't get the threads to grip and the stitching in the bobbin compartment was scattered.
I didn't know what I was doing wrong. Turns out, all the mess was being created because I had not pushed the bobbin in until it clicked… do'h! We still managed to do 11 orders on Saturday 1st Dec, despite losing two orders because my staffer had forgotten to ask for money and I wouldn't embroider it until they paid – when they came back and saw it wasn't ready, they were not happy and left. You can't win em' all.
To relieve the pressure, we instantly made changes for the following week. Instead of offering all different designs and having to change threads based on requests, we created a simple form saying "I BELONG TO"  <choose colour> and "NAME" <choose colour>.
The customer could only choose the six colour threads we had on the machine and they could only choose one name, not two and no special requests.
The embroidery took between 7 and 8 minutes, and the digitisation was simply changing the colour and name.
Barring any machine faults, we could breeze through six and hour, making the kiosk very profitable. Birth Blocks, although lovely, take too long to do. Even charging £35 – it take 25 minutes to stitch out, the same time it takes to do three IBT.
If they were willing to come back the next day, that's fine, but people want it now and don't want to wait so time is, always, money.
We were also offering a £5 discount if they ordered an additional item, and we extended this to the towels and bags and blankies which we were selling blank. It's still profit and involved no additional work.
Customer satisfaction on the personalised Cubbies is 100% – they love how they turn out.
The problem is making people understand what they can get and then willing to pay for an unproven brand & product.
People walking by don't know who we are – haven't seen what we do and don't trust us. Why would they? People will pay £40 – £50 at Build A Bear for a teddy that they stuff, which, based on all feedback I get, has a low customer satisfaction and zero wow factor; but customers know the name and see others buying it, which gives them confidence to buy too.
If you have a new kiosk and it's quiet with no customers taking interest or waiting on a purchase, they are more inclined to simply walk on by; this is the problem you are going to have, so choose your venue and position wisely and be patient.
We were also paying too much for the kiosk – I was hiring staff to do it as I have a full time job running Cubbies (but I was still doing Fridays and Saturdays at the kiosk) so I needed to be selling nine a day to break even. So far we only managed that on the Saturday.
We've had a really positive reaction and many people asking how long we will be here and that "They'll be back," which could be a polite way of saying "No thank you," but I think we can be doing 10 – 15 a day in the final ten days before Christmas; our last day is Dec 24th but i may cut it a dat prior. If people see the kiosk surrounded by people, they will be a buzz about the place and converting sales will be easy.
I think this should be your busiest time of the year, something that you look forward to. If you can create some customer loyalty and name recognition in your area, then you could attend the same venue every year and get, not only repeat business, but referred business and also gain more trust from customers who have seen you before.
Ideally – you want to be selling in the last two weeks at Christmas or just the last three Saturdays. It could be worth paying £90 or £100 rent a day for a Saturday Kiosk, but you don't want to be paying on a weekday. If you were hiring a venue, you want to be looking at paying £300-£400 a week max and sell 40 – 50 personalised Cubbies.
If you need to hire staff for help, you would want to be doing 50 – 65, which will be difficult for an unknown and untrusted seller.
Of course, it's not just the orders you do in those two weeks – you need and will get repeat business, so having a kiosk or market stand is a great way of advertising your work.
Give every buyer a card on how to order again online – you'll definitely hear back from 20 – 30% or more if they like your work.
Suddenly, if you did a modest 50 orders over ten days, that will equate to an extra £500+ in additional sales over the rest of the year and beyond.
Tips:
Building the kiosk was really cheap and simply – I ordered three bookcases from Ikea and a desk that fit on to it and that was basically that. I ordered a roller banner so people could see what we were doing and the prices, and I filled the top of the units with samples. No need to build anything bespoke.
When they pay, always ask if they can pay by cash. You avoid merchant fees and there maybe a few other benefits that spring to mind… :)
Don't offer colour choices that are not already threaded on a needle. A customer is not going to request something that isn't available.
Don't allow custom requests that are not instantly proofed and approved on paper (leave no room for creative differences)
Don't tie yourself into a length of contract without having first tested the venue (why tie in for a month when you can request five days)
Make sure you have budgeted and know all your costs and know your break-even point. You don't want to be working for two weeks just to pay off your costs.
Other ideas
I really feel that bringing to 'life' a child's drawing by converting a picture to editor has tremendous potential. The reason I gave up on it at the Kiosk was time.
In the three days we only did two of these designs (which was a bit of a relief because of ten minutes it took to digitise) and I'm sure the reason why we only got two was because customers didn't get it and were not looking for something like that.
Had someone seen on a video what we do and how great it looks, and we offered a chance to stop by and get one, the conversion of those who came would be 100%, as well as the satisfaction.
Schools or nursery's may be interested in doing something for a day for their kids – but because it's not educational, that may be difficult.
If I find a source or avenue to go down, I'll be sure to let you know because I am not looking to do it myself and I cannot afford another embroidery machine (nor can I or want to train embroiderers up and down the country)
The digitiser on PE software was all over the place, so I researched another and I trained myself on how to use Hatch Digitiser in two days. Although there's more I want to learn, I felt it was pretty easy. I could turn a picture and edit the colours within five minutes, so it wasn't hard. Problem is, cost is $899 and unless you know you're going to be selling lots of these designs, the cost is not worth speculating on.
I will try to post more useful insights on how to expand your reach and raise the profile on Cubbies.
2019 will be a very special year for me personally – my firstborn is expected Feb 18th and I've been waiting to be a dad for a long time.
Have a great festive Christmas time and as always, onwards & upwards!